Totara North
Totara North is a small settlement on the northern side of Whangaroa Harbour. It is home to around two hundred close-knit residents and has a primary school with 38 pupils, a community hall and gardens, The Gum Store bar and cafe, a now derelict timber mill, a wharf, a shed for crayfish processing and a boat ramp.

The wharf at Okura Bay, Totara North. Photo by Tony Foster
The steep bush-clad hills of this northern side of the harbour tumble almost all the way into the sea and offer little flat land on which a town could grow, but prior to the 1990's when the last privately-owned kauri trees were milled, Totara North's proximity to the sea, the kauri trees and kauri gum fields, allowed it to exploit its nearby kauri forests and to become a thriving and prosperous community and a hub of commercial activity and enterprise in Northland.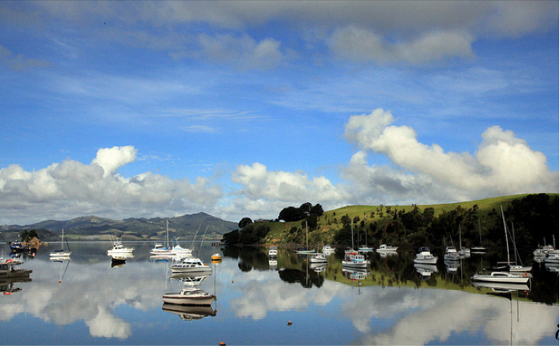 Boats moored at Totara North. Photo by Tony Foster
In 1870, 2 enterprising young men, named Thomas Lane and William Brown, recently released from their apprenticeships, built themselves a skiff at Waiapu Bay in the Bay of Islands and sailed it north to Whangaroa Harbour where they set up their own boat-building enterprise, Lane & Brown, at Totara North.
Lane & Brown's skill and hard work was soon rewarded with orders for boats and ships from all over the southern hemisphere. Their ships were renowned for their quality and strength, as Lane & Brown insisted on using only the best quality kauri and hardwood timbers, including 12 month seasoned winter-felled pohutukawa for the framing.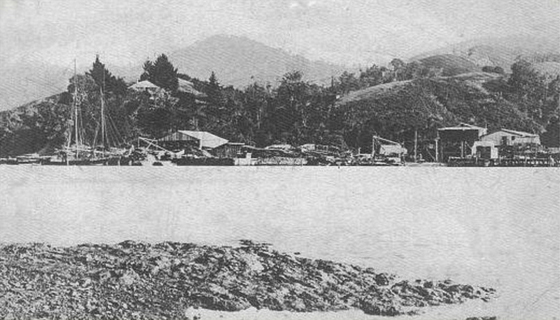 Lane & Brown's shipyards, Totara North, circa 1900 (The Cyclopeadia of New Zealand, Auckland Provincial District, 1902)
Lane & Brown built ships of up to 350 tons at Totara North and employed up to 100 men and by 1900 over 70 vessels were built and launched at their yards. At that time, Totara North had over 100 children attending the school, three boarding houses, two stores, a bakery, a rope works, a brickworks and a post-office with telegram service.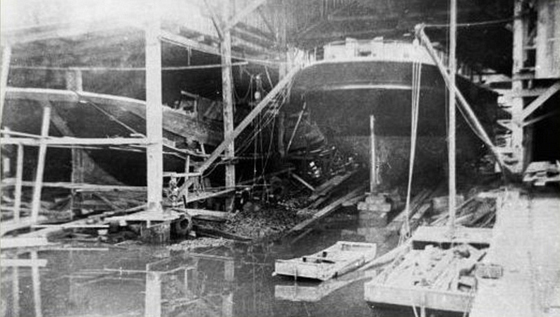 Lane & Brown's shipyards, Totara North, circa 1900 (The Cyclopeadia of New Zealand, Auckland Provincial District, 1902)
With the decline of the wooden ship-building industry at the turn of the century, the firm expanded its timber milling business. Kauri was sent to San Francisco to be used in the city's reconstruction after the 1906 earthquake. When Thomas Lane died in 1916, the timber mill became known as Lane and Sons. Despite two fires in 1909 and 1939 and a lull during WWII, milling continued throughout the 20th century until 2004 when the firm was sold and closed down.
Today the old mill belongs to Te Runanga o Whaingaroa, a local Maori administrative body, and until recently they used the crumbling sheds to house some of their beautifully carved waka (ceremonial canoes).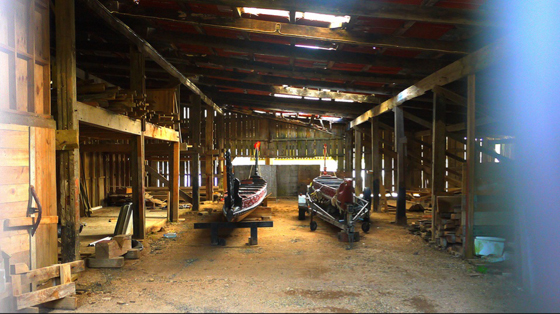 Waka stored in a mill shed at Totara North. Photo by Tony Foster.
Totara North was once the home of the head office of Molesworth & Saies, the most successful kauri gum traders in the world, who at their peak, operated 15 agencies on various Northland gumfields, employed a staff of 40 (as well as the hundreds of gum diggers) and traded an annual average of 400 tons of the precious amber resin.

Molesworth & Saies' gumstore (left) and some of their staff (right) at Totara North, circa 1900.
(The Cyclopaedia of New Zealand, Auckland Provincial District,1902).
The Molesworth & Saies offices have been lovingly converted into The Gum Store - a bar and cafe decorated with fascinating displays of old memorabilia collected by its sea-faring owner and with examples of almost every type of New Zealand native timber on its wainscot panelling.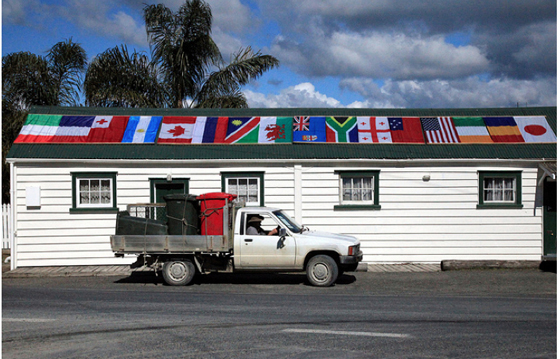 The Gum Store decorated with flags of the competing nations in the 2012 Rugby World Cup. Photo by Tony Foster
Totara North is a tightly-knit community and has an active group of energetic volunteers working to reverse the negative effects of losing their main source of employment, the timber mill, which closed in 2004.
The Totara North Residents & Ratepayers Assn organises a range of community projects, such as quarterly market days and community gardens, both held at the historic old kauri community hall, opposite The Gum Store.
Market Day at the Totara North Hall, 13 April 2013. Photo by Anita Herbert.
Heading up the valley opposite The Gum Store is Campbell Road. At the end of Campbell Road is the start of the Wairakau Stream Track, a Department of Conservation walking track which ends at Lane Cove and the Duke's Nose on Pekapeka Bay (the western arm of Whangaroa Harbour). This 2 hour long walk (each way) is the only way to reach Pekapeka Bay without a boat but is highly recommended for its stunning scenery through some of the last coastal Kauri forest in New Zealand.
There is an old kauri cottage at Lane Cove which can be booked for groups to stay in. Contact the Department of Conservation in Kerikeri to reserve the cottage.
If you do not wish to return by foot, it is possible to arrange a water taxi to collect you from Lane Cove. To book this service, phone Tony Foster on 027 680 5588.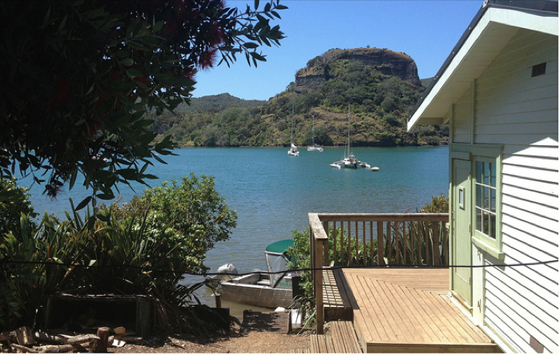 The Department of Conservation cottage at Lane Cove. Photo by Tony Foster.
As well as being the author of several books, a gifted photographer and water taxi operator, Tony is also a botanist and an expert on the flora and fauna of the Whangaroa area. For those who wish to gain a deeper appreciation of the natural environment in Whangaroa, Tony offers guided tours by both land and sea. Visit Tony's website, The Bushman's Friend: http://www.bushmansfriend.co.nz/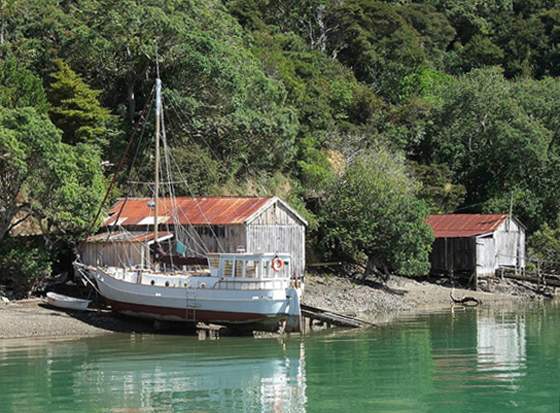 Boatsheds, Okura Bay, Totara North. Photo by Andrew & Suzanne.
Accommodation at Totara North
There is no campground at Totara North, but there is a backpackers' hostel and a number of houses and baches are available for holiday rentals and a few excellent bed and breakfast establishments.
Cedar House, Totara North is a secluded 5 bedroom house, set in beautiful lush native bush.
Harbour View Cottage is a 1940's Totara 3 double bedroom home with 2 bathrooms and with wonderful views over the upper Whangaroa Harbour. Close to nature/bush walks, boat ramp, the Whangaroa Harbour, golf course, shops and beaches.
The Kahoe Farms Hostel is a backpackers' accommodation and hostel on State Highway 10, just north of the turn-off for Totara North: www.kahoefarms.co.nz
The Oyster House is a well-appointed large house overlooking the harbour, not too far from the turn-off at State Highway 10. Visit The Oyster House website at www.totaranorth.co.nz
Pearl of the North is a spacious 3 bedroom house at Okura Bay, Totara North.
Pekapeka Bed & Breakfast is near the Whangaroa golf course (on State Highway 10, north of Totara North) overlooking Mount Taratara.
Ruru Cottage Totara North is a 2 bedroom cottage with superb views across the harbour to Whangaroa and Ohakiri (St Pauls).
Seaview Bed & Breakfast is a large, beautifully restored home built in 1891, overlooking the harbour and boat ramp at Totara North. Telephone: +64 9 405 0978
Totara Country Lodge is a 4 bedroom villa with wide verandahs and stunning views.
Totara North, Northland is a modern 2 storey, 3 bedroom home in a private setting.
Boat & Yacht Charters from Totara North
Millenium Fishing Charters. Telephone +64 9 405 0995
Reel Awesome Fishing Charters. Contact Captain Rick Jacobson at www.fishreelawesome.co.nz
Snow Cloud Yacht Charters. Contact Chris Sale at www.snowcloud.co.nz
Whangaroa Houseboat Holidays. Contact Tony Foster at www.houseboatrentals.co.nz
Whangaroa Water Taxi. Contact Tony Foster on 027 680 5588.
Whangaroa Yacht Charters. Sailboat cruises on 46' (14m) sloop. with Doug & Anne Gates. Tel: 021 139 1637.