Tauranga Bay
If you love scenery, sea and sand, you'll love Tauranga Bay.
Tauranga Bay is one of the best beaches in the Far North.
It lies immediately south of the entrance to Whangaroa Harbour.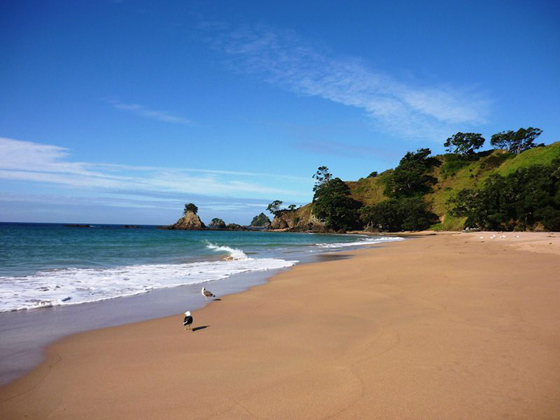 Photo Courrtesy of Carol Lea
By road, Tauranga Bay is 3km off Wainui Road.
The Tauranga Bay Road is signposted at 7.6 km from the Whangaroa end of Wainui Road and 29 km from the start of Matauri Bay Road.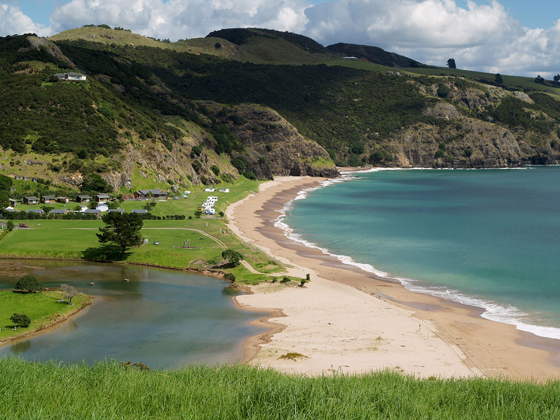 Photo by Kevin Sutton
The beach is at the end of a wide, flat valley, surrounded by steep, bush-covered slopes.
A significant stand of ancient ti kouka (Cabbage trees) lies besides the lower end of the valley road.
The estuary is an important breeding ground for Pateke (brown teal) http://www.nzbirds.com/birds/pateke.html.
Remnant terraces and kumara pits on the western slopes of the valley are evidence of a long history of occupation and cultivation by Maori.
Since the late 1830's, this valley area has been farmed by the descendants of early pakeha settler and missionary, James Shepherd (see Matangirau, below).
The beach at Tauranga Bay is an exquisite kilometre-long stretch of north-facing pink sand and is one of the Far North's favourite swimming spots. At the eastern end of the beach is a large public reserve where visitors can park their cars right on the edge of the sand dunes and admire an uninterrupted sea view out to uninhabited Stephenson's Island and beyond.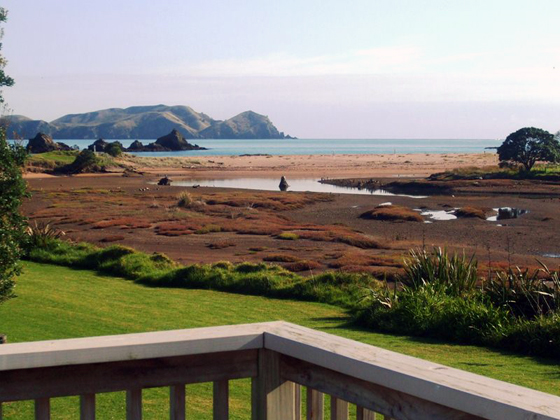 Mahinepua Island/Stephenson Island lies to the north of Tauranga Bay and its tidal estuary with its important nesting sites of the endangered NZ Dotterel. Photo courtesy of Carol Lea
The low lying dunes along the beach have been fenced off by the Department of Conservation to protect the nesting sites of the endangered Tuturiwhatu, the New Zealand Dotterel.
http://www.doc.govt.nz/conservation/native-animals/birds/birds-a-z/nz-dotterel-tuturiwhatu/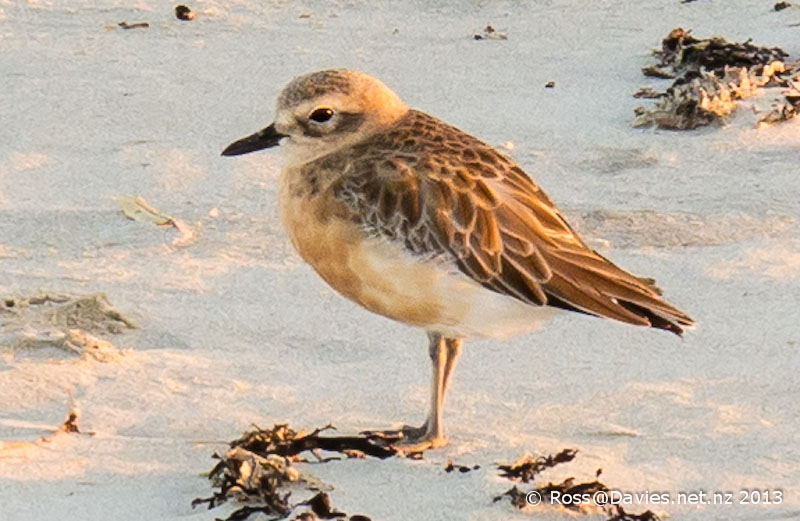 There are less than 1500 of these birds left in the world. It is for this reason that visitors to Tauranga Bay must adhere to the local Council Byelaw to keep dogs on a leash at all times - to protect the beach nesting sites of this rare and endangered native bird. Click on this link to open a video of NZ Dotterel at Tauranga Bay.
An estuarine river at the far eastern end of the beach provides ideal safe swimming conditions for smaller children.
With a public reserve at one end of the beach, and a camping ground at the other, Tauranga Bay is refreshingly un-built-up and has an effortlessly laid-back vibe.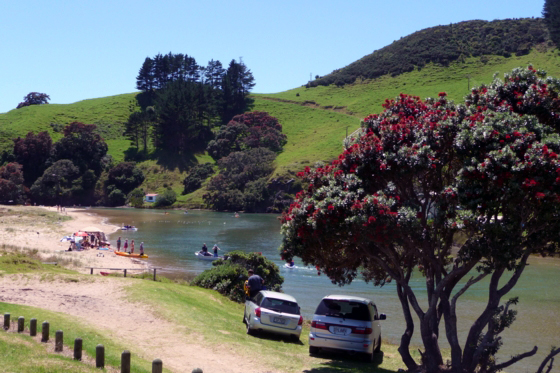 Photo courtesy of Carol Lea
The Tauranga Bay Holiday Park is a truly beachfront camping ground run by the Rush family (of rugby Sevens legend, Eric Rush fame).
This motor camp is extremely popular and is one of the best places to experience a real Kiwi camping holiday. Tauranga Bay Holiday Park contains not only some of the world's most spectacular beachfront sites for tents, caravans and motor homes, but also offers a wide choice of cabins, facilities and other accommodation options as well. The Holiday Park also has a shop selling provisions and refreshments.
http://www.taurangabay.co.nz/welcome
Marble Bay

& Arrow Rocks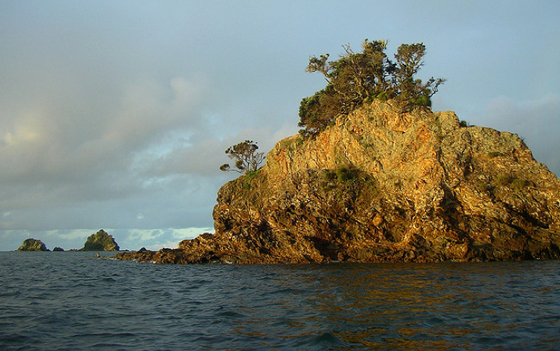 To the east of Tauranga Bay are the Arrow Rocks, which lie just a few hundred meters off Marble Bay and Orua Bay – 2 secluded private access beaches.
The Arrow Rocks (or Oruatemanu) are the oldest known rocks in the North Island and are of special interest to geologists for their unique Triassic and Permian era fossilized plankton deposits dating from between 270 and 245 million years ago. A joint geological survey by Japanese and New Zealand scientists first started to study this fossil record in 1986. It is rare for geologists to be able to see a 25 million year long record of marine plankton deposition and allows scientists to learn about the evolution of plankton. The chemical record locked in these fossilized plankton deposits may also help to uncover the mystery of what caused the mass extinctions in this era, thought to have been caused by a major catastrophic event such as an impact from a comet.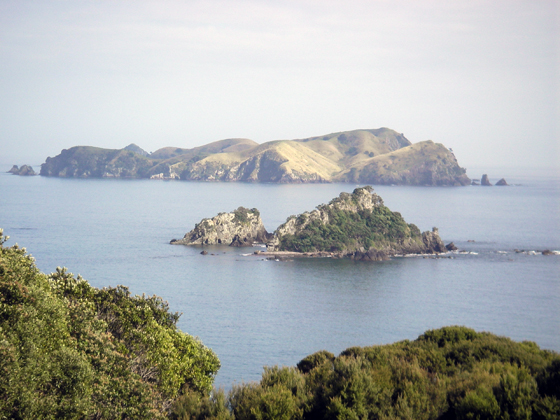 Photo by Richard Israel, Northland Sea Kayaking
Source: Excerpted from an article by Tony Gee, The New Zealand Herald, 12th January 2002. http://www.nzherald.co.nz/nz/news/article.cfm?c_id=1&objectid=586204
The land above high water mark at Marble Bay and Orua Bay is privately owned but two of the handful of beachfront homes are available to rent: http://www.holidayhouses.co.nz/properties/19246.asp
http://www.holidayhouses.co.nz/properties/22667.asp
Northland Sea Kayaking operates from out of Marble Bay and is a tour company specializing in helping you to best explore the deeply indented coastline and islands of Whangaroa County, from Matauri Bay and the Cavalli Islands, the Whangaroa Harbour and northwards to Taupo Bay and beyond, including Stephenson's Island.
http://www.northlandseakayaking.co.nz/
Butterfly Bay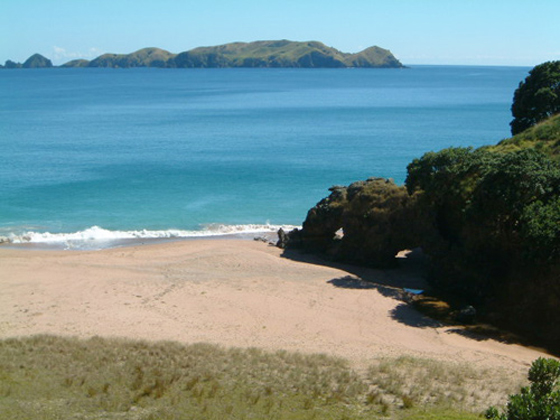 At the western-most end of Tauranga Bay lies a small secluded cove called Butterfly Bay, accessible only by clambering around the mussel-strewn rocks and through a natural rock arch at half tide or lower. This little-known cove is named for the colony of sun-loving Monarch butterflies that annually congregates to over-winter and breed in the branches of the trees above the beach. There is also a nesting ground of New Zealand Dotterel on the sand above the high water mark. Please respect both of these very fragile wildlife sites by not disturbing them (nor the owner on whose private land they are found). If you are tempted to linger longer than the tides allow in this beautiful seclusion, the house overlooking the beach at Butterfly Bay is available for rent throughout the year: http://www.butterflybay.co.nz/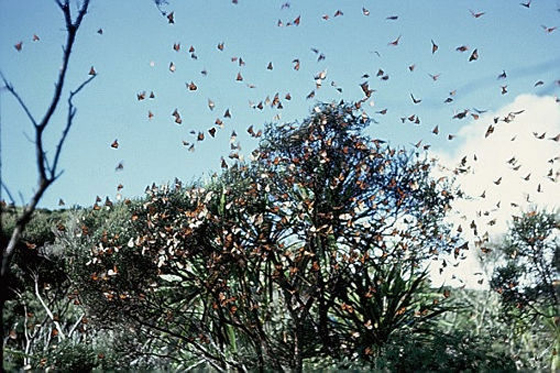 Matangirau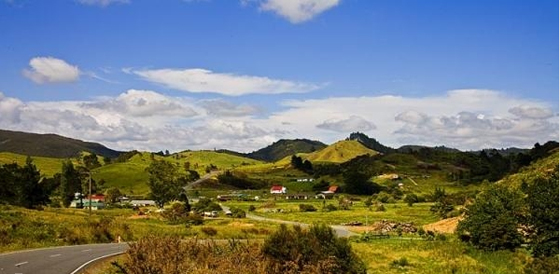 Matangirau is a small settlement on Wainui Road, roughly halfway between Whangaroa and Tauranga Bay and is home to the Karangahape marae and the tiny Anglican church of St James. This church is one of several in the Whangaroa area built by Anglican missionary, James Shepherd, who first arrived in the area in 1823 (to assist Rev Samuel Leigh in the selection of a suitable site for New Zealand's first Methodist mission at Kaeo) and settled permanently near Matangirau at Touwai Bay in 1838. Here he built his home and mission station, "Waitangi". James Shepherd was not an ordained minister but his skills as a horticulturalist and carpenter as well as his fluency in Maori made him an invaluable asset to the Church Mission Society. As well as assisting with the Methodist missionaries' early work, Shepherd also gave great service to Samuel Marsden at his missions at Oihi and Te Puna near Kerikeri and to Henry Williams at Paihia.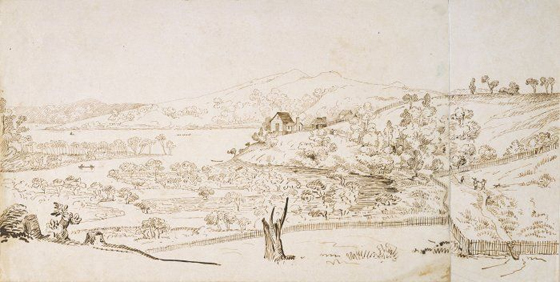 Artist unknown: View of James Shepherd's Anglican mission station 'Waitangi' at Touwai Bay, Whangaroa Harbour. 1840? Courtesy of Alexander Turnbull Library. Pen & ink drawing. (Possibly drawn by Charles Heaphy).
Nowadays all that remains of 'Waitangi' at Touwai Bay are some large surviving specimen trees from the home's garden and a large conical stone cairn with a bronze plaque commemorating James Shepherd, erected on the site of the mission station by his decendants. Access to this important historic and very beautiful spot is by water, and best at high tide in small craft only.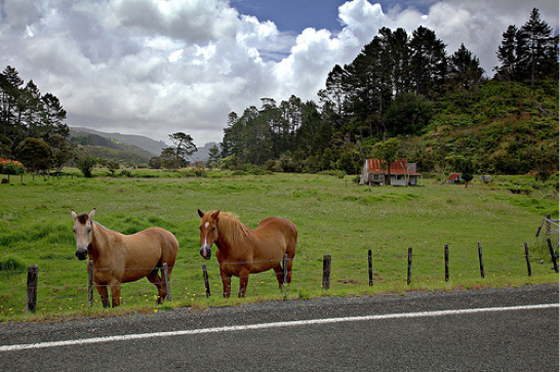 Looking towards Touwai Bay (behind the trees on the ridge to the right) from Wainui Road at Matangirau. Photo by Tony Foster.