Taupo Bay
Taupo Bay lies just north of the entrance to the Whangaroa Harbour.
To reach this idyllic beach by road, one must travel 11km to the north of Whangaroa Harbour and then turn eastwards for a similar distance, but the journey is well worth it.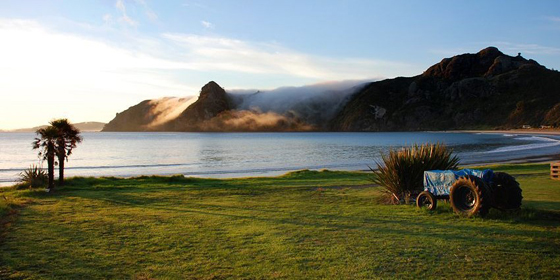 Early morning light illuminates mists flowing out of Whangaroa Harbour into Taupo Bay. Photo by Chris Barker
This picturesque white sandy beach is the ideal surfing and family holiday destination. Taupo Bay offers quality beach front accommodation, and there is also a camping ground near the beach. Small old-style baches and newer holiday homes line the beachfront. The beach provides an easy launching ramp for trailer boats. Taupo Bay is in a spectacularly scenic setting, surrounded by native bush.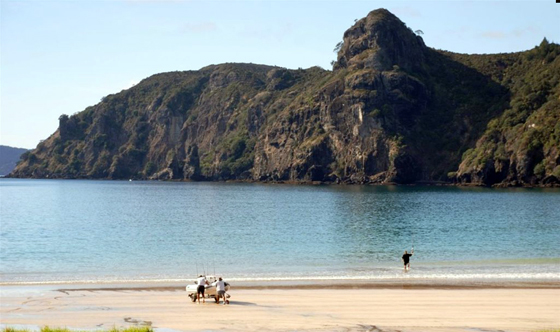 Launching the boat.
Taupo Bay is one of Northland's best beaches. The beach is extremely wide and slopes gradually into the sea and curves in a gentle arc for a length of almost one and a half kilometres.
Taupo Bay is renowned for its surf. The Isobar Surf School is found here and teaches the sport to all comers. www.isobarsurf.co.nz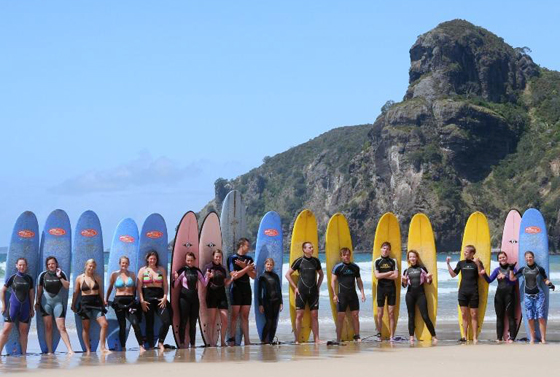 A group of Isobar Surf School students. Photo by Tim Rosevear
Accommodation at Taupo Bay
Taupo Bay Holiday Park has cabins, backpackers accommodation, tent sites and powered sites for caravans and campervans, plus the only shop at Taupo Bay, selling refreshments and basic provisions. www.taupobayholidaypark.co.nz
Taupo Bay Rentals was established around 1994 by Jan & John Turner. Starting with just one rental home, Taupo Bay Rentals now manage around fifty rental homes for the owners in the Taupo Bay and Doubtless Bay areas. www.taupobayrentals.co.nz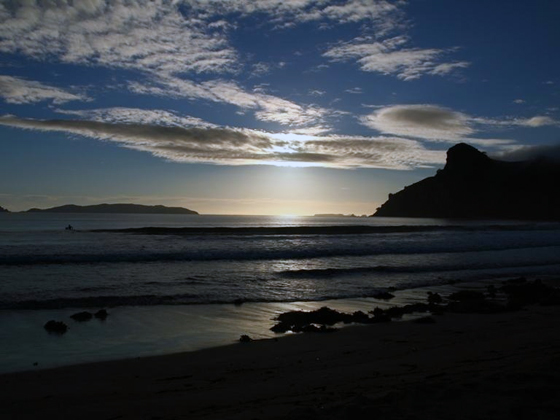 Sun rising over Taupo Bay. Photo by Tim Rosevear.