Puketi and Omahuta Forests
Puketi and Omahuta forests are located between the Hokianga Harbour and the Whangaroa Harbour.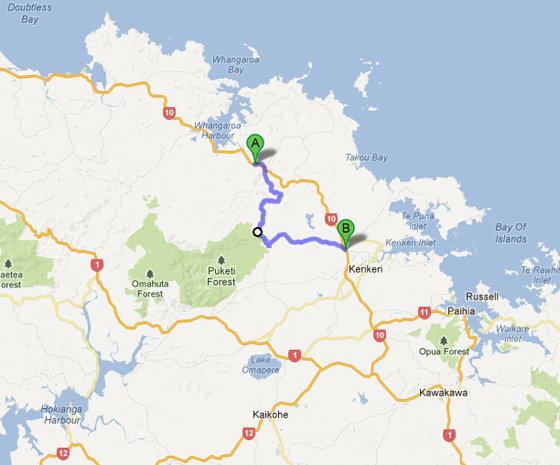 Map Courtesy of Google Maps
Map Key: (A) Kaeo; (B) Waipapa.
Manginangina Kauri Walk (the white circle) is roughly 18km from Kaeo via Waiare Road
and 16km from Waipapa via Pungaere Road
Puketi and Omahuta form one of the largest remaining continuous tracts of native forest in Northland. At more than 21,000 ha, this forest tract is the second largest but most intact forested habitat in the Eastern Northland Ecological Region. The Department of Conservation administers most of the forest, with the remainder under Conservation Covenant or QE2 Trust.
With over 360 indigenous species of plants, this forest is one of the most diverse in New Zealand. It supports nine threatened fauna species and several others which are endemic, or regionally significant.
The mature kauri forest remnants are especially important as less than 1% of the original cover of this forest type is left. The lowland mixed kauri forest is one of the best remaining examples of this type.
Bird species found at Puketi & Omahuta forests include North Island brown kiwi, kokako, NZ pigeon/kukupa, pied tit, banded rail, and fernbird.
The forests are also home to short-tailed and long-tailed bats, Pacific gecko, and Northland green gecko.
You can also find Northland tusked weta, Kauri snail, and native fish including banded kokopu, and koaro.
The forests offer a range recreation opportunities including tramping, camping and hunting.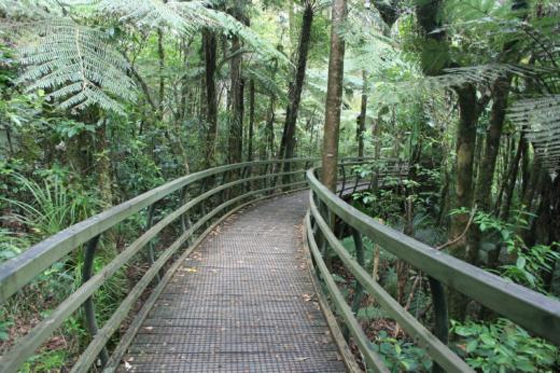 Mangninangina Kauri Walk
An ideal short walk for all, including wheelchair users, is the Magninangina Kauri Walk, which is found on Waiare Road. This elevated boardwalk loop takes in a stand of mature kauri trees and includes interpretive panels with descriptions of the trees and their lush undergrowth vegetation. Highly recommended.
There are 12 different tracks of various length and degree of difficulty. There is also a Department of Conservation campsite at the Puketi Forest headquarters and 2 additional campsites within the forest.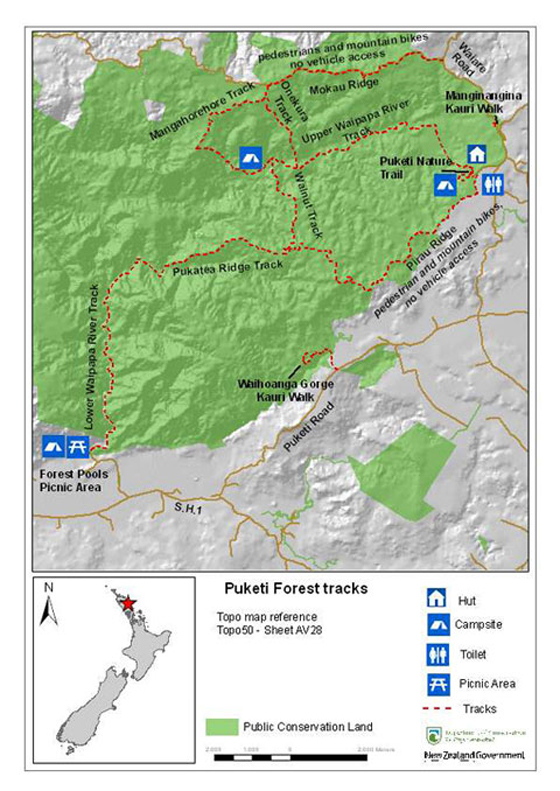 Map Courtesy of the Department of Conservation
For a full list and descriptive guides to all the 12 different Puketi and Omahuta Forests tracks and options for places to stay, see the Department of Conservation's website:
http://www.doc.govt.nz/parks-and-recreation/places-to-visit/northland/bay-of-islands/puketi-and-omahuta-forests/activities/#map