"A Contemporary Maori Experience"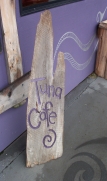 In the small town of Moerewa, on State Highway 1 is a little haven of Maori owned and run businesses. It is a collective of shops placed around a central courtyard- it is the place to stop to get your hair cut, to enjoy the Whare Toi Tangata Gallery, to buy quality, contemporary Maori Arts and clothing, to relax at the Tuna Café and to enjoy the wonderful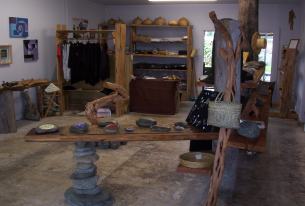 food that has a uniquely Maori flavour. It is a collective that embodies Maoridom, offering an interdependent business model of sharing and support. Te Puna i Keteriki is a uniquely Maori venture. It is a twenty first century Maori business model, a model that works. "People don't just come here for the café and crafts, we're offering an experience that is uniquely Maori, and, we are excited by the pride Maori feel about what we are building too- this is our future."
Te Puna I Keteriki is the spring at Otiria,
that is referred to in a local whakatauki (saying)

"Taumarere herehere riri
Te puna i Keteriki
Te rere i Tiria"
It tells of the baby eels, and their journey when returning from the sea to their rivers.
Only by co-operating and working together,
can they successfully scale the waterfall, Tiria.

Next time you are passing through Moerewa, plan to stop and browse a while. Enjoy all that Te Puna i Keteriki has to share and feel the collective strength of this contemporary maori experience.
"An excerpt from Northern Age newspaper"