About Us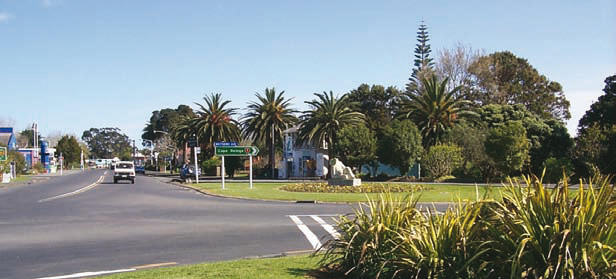 Welcome to Kaitaia. Kaitaia is New Zealand's northern most town and one of the nations oldest. For those of us who are privileged to live here we are proud of our rich multicultural heritage. Visitors are welcomed by town signage in Maori, English, and Croatian exemplifying the three main cultures that built Kaitaia to what it is today.
It is the last major settlement on the main road north to the capes and bays on the peninsula. Ahipara Bay, the southernmost part of Ninety Mile Beach, is five kilometres west of the town.
The town has a population of 5,202 (2006 census) which makes it second largest in the FNDC area, behind Kerikeri.
In days gone by being isolated by bad roads, or no roads, and the Mangamuka Ranges the community has developed a friendly, do it yourself, attitude.
The word Kaitaia meaning 'abundance of food' in Maori, chosen for the prolific bird life in the ancient Kauri forests and the plentiful supply of fish and shellfish along the 90 Mile Beach. The climate most of the year is subtropical, the perfect adventure playground. The town is a starting point for coach tours along the famous 'Ninety Mile Beach' to Cape Reinga and is an excellent base for day outings in the area.
The main industries of the town are forestry and tourism. A farming town, it busily supports sheep, cattle and dairy farming, vineyards, forestry, and fruit growing - especially avocados - as well as extensive supply industries. Kaitaia's tradition of well established, old businesses is well known and the town is enriched with many old established pioneering families. Check out our historical photo galleries. Kaitaia is full of history, adventure, and sights to see. With our beautiful coastlines and historical sites, we urge you to come and begin your journey with us.
The region was one of the first to be settled by both Maori and Europeans alike. It is an area of beautiful bays, beaches and lush forests.
Kaitaia has excellent accommodation, a domestic airport, and visitor information centre. It is also home to the Far North Museum, which displays a ships anchor dating back to an early European exploration of the area in 1769. Nearby are the golden sandy beaches of Ahipara, the southern most part of the famous Ninety Mile Beach.
The town is a good base from which to explore the Far North; the Aupori peninsula that starts to the north of the town and ends at Cape Reinga. Here the Tasman Sea and the Pacific Ocean meet, and its turbulent waters are quite spectacular. Ninety Mile Beach, which is in fact only 60 miles long, is a stretch of golden sand and towering sand dunes that runs the western length of the peninsula.