ATTRACTIONS
Kaitaia Walkway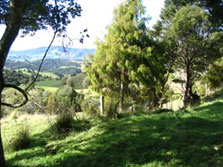 You can find the Kaitaia Walkway entrance by travelling south from Kaitaia on SH 1 for about 3 km. Turn right onto Larmer Road and follow it to its end. The track is signposted.
The first stage is an easy bush walk through broadleaf and podocarp forest along an old formed roadway. In summer, the lush forest canopy provides cooling shade.
After about 30 minute you come to a junction: A 20-minute return walk up a steep narrow track takes you to a stunning kauri grove. Strewn on the forest floor underneath the kauri are pieces of kauri bark and you can take a moment to study their amazing shapes and patterns.
A 15-minute return track takes you to a lookout point over the forest. From here you can continue the Kaitaia Walkway - route to Diggers Valley. From here you can continue the Kaitaia Walkway on a route. The track climbs up to a saddle with a good lookout, and continues on to Veza Road.
For more information click here
Other walks you may find interesting:
East Coast:
Cape Reinga - Tapotupotu Bay
Time: 2 hours 30 mins
Length: 4.5km
A fairly steep climb via Sandy Bay provides great coastal views. The track begins at the Cape Reinga carpark or the western end of Tapotupotu Bay following orange marker posts.
Cape Reinga Road To Pandora via Kauri Bush
Time: 40 mins walk to Kauri Bush Walk turnoff; 2 hrs to Pandora
Length: 2kms - 6kms
Pandora is a beautiful sandy bay accessible only by foot via the coastal walkway or from the Cape Reinga Road. The 4WD standard road to Pandora is suitable for walking or mountain biking. A side track leads to a remnant of Kauri forest that once covered the Far North.
Cape Reinga Coast Walkway (Kapowairua - Pandora - Cape Reinga)
Time: Kapowairua to Pandora - 3 hrs
Length: 8.5kms
Time: Pandora - Tapotupotu Bay - 5 hrs 30 mins
Length: 4.5kms
This spectacular coastal walkway passed a dramatic coastline, with sand dunes and headlands between Kapowairua on the east coast and Te Paki Stream on the west coast.
West Coast:
Te Werahi Gate - 30 minutes
Length: 2.5kms
Twilight Beach - 1 hour 15 minutes
Length: 4kms
From the gate there are two well-graded walks to the coast which connect with the coastal walkway. A dry weather road across the far leads to the signpost marking the beginning of the two tracks. A day's round trip (4.5-5 hours) can also be made through fabulous scenery - take care to follow the orange topped marks posts over the dune lands.
For more walks and information please visit: www.doc.govt.nz