ATTRACTIONS
Ancient Kauri Kingdom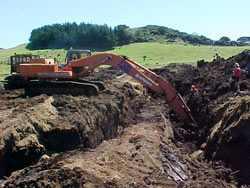 Ancient Kauri logs that have been buried in peat swamps in the north of New Zealand for more than 45,000 years. It predates the migration of Neanderthal man and was already buried in swamps more than 25,000 years before the onset of the last Ice Age. Ancient Kauri is the oldest workable wood in the world and is considered worldwide a valued heirloom connecting us by its beauty and ancient history.
Swamp Kauri is only found in the top half of the North Island of New Zealand. Most of these forests have been buried for up to 3,000 years.
Research has revealed the further north swamp kauri is found, the significantly older it tends to be. Hence we changed the name from Swamp Kauri to Ancient Kauri to better reflect its true age. Our Ancient Kauri is
more than 45,000 years old.
Numerous independent radio carbon dating by world experts confirm that at more than 45,000 years old, the buried Ancient Kauri recovered in the far north of New Zealand by Ancient Kauri Kingdom, is amongst the oldest of all Ancient Kauri found and certainly the oldest workable wood in the world… by a long, long way.
Ancient Kauri has a beautiful and distinctive grain. When polished, the wood is a deep golden colour with hues, textures and sheens that change under differing shades of light. Ancient Kauri is one of the few woods of the world that illuminates light from within - i.e. shimmers.
Visit their website www.ancientkauri.co.nz for more information